Verde West is located on Arizona Hwy 95, 25 miles south of Lake Havasu City, 14 miles north of Parker, just 2 miles south of the Parker Dam.
The park is made up of 261 lots owned by Verde West co-op. Each lot is leased for 99 years to an individual co-op member, who under the by-laws and rules of Verde West control the lot.
All lots have cement slabs and individual water sewer and electric hookups. The park has everything from empty lots to lots with park models with Arizona rooms, awnings and sheds.
Come Enjoy The Beauty of the Colorado River
Verde West RV Park is a non profit co-op created in 1985 as a first class RV park, to give people an affordable place to spend time near the Colorado river. The park is overseen by a 7 member board elected by the members to 2 and 3 year terms at the annual meeting in February. Verde West co-op members receive a 99 year lease on one of our 261 lots, the lease is renewed when the membership changes owner. All lots, which sit along paved streets, have cement slabs, individual water, sewer, and electric hook ups. Improvements on the lots range from just sheds to park models with added Arizona rooms, sheds and awnings. All improvements and all RVs brought into the park over 10 years old, must be approved by the architectural review board to maintain the park as a first class RV resort. Current monthly member fees are $110.00 which include water, sewer, garbage and access to all facilities, the members own the park. Sorry currently no motorcycles, scooters, ATV's, or gas golf carts can be driven in the park.
Verde West members consist of year round residents, summer people who come to enjoy the river and lake and a large group of snowbirds from all over the United States and Canada. Some members do rent their places when they are not taking advantage of them.
Verde West is on Arizona Hwy 95 25 miles south of Lake Havasu city and 14 miles north of Parker. With public boat landings at LaPaz county park, giving access to the Colorado river below the Parker dam just 5 miles south, and Take Off Point by the Parker dam accessing Lake Havasu and the Bill Williams river just 2.5 miles north. Verde West is located in the perfect spot if you enjoy any water sports.
With a swimming pool that is kept at 88 degrees year round and 2 hot tubs, at different temperatures, our pool area gives you a chance to enjoy a swim or warm up and sooth your aches. With water aerobics in the morning and open swimming and relaxing the rest of the day the pool area is a good place to exercise and keep informed.
The club house consists of the office, a large main room, up to date kitchen, game room, library, mail room, laundry and bathrooms with showers. The main room and kitchen are used to celebrate holidays with meals and dances. The main room is also used by quilters every week and during the snow bird season there are jam sessions, bingo, exercise classes, dance lessons, bridge club and monthly breakfasts and other events. In the game room you will find people playing pool on the two full size pool tables, playing cards and other games on the tables which include 2 poker tables. Next to the club house is the pool area, shuffle board courts and horse shoe pits. There is also a second laundry with showers in another location.
Verde West is a peaceful place to just relax or you can be involved in many different activities year round.
Verde West RV Park offers many events to participate in during the snowbird season. You can also volunteer as the coordinator or helper for any of these events. Some of these events include:
Monthly breakfast or brunch(winter months)

Christmas tree trimming/Caroling
Beautiful pool and scenery. Large deck for lounging and sunbathing.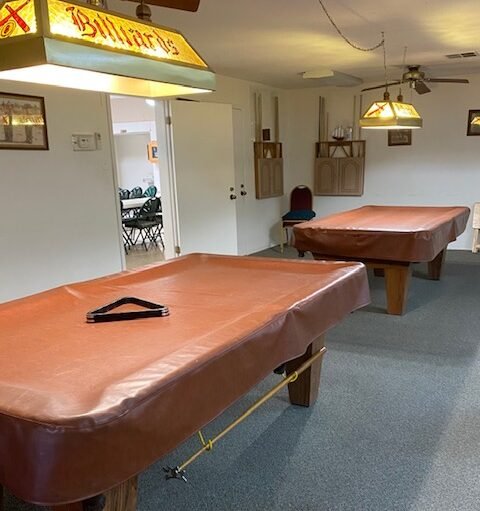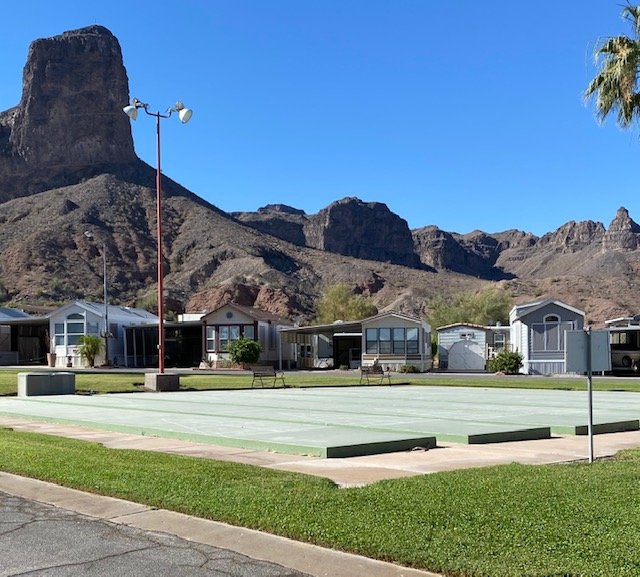 Spend the afternoon playing a nice game of Billiards or Shuffle Board
Very nice and clean laundry available onsite.
Verde West is located at 4985 Hwy 95, Parker, AZ 85344
928-575-4128
Hours: 9am-1pm Monday – Saturday